featires
---
At Home, In your car or Outdoors.
HZP will automatically playback your music in the frequency of your choosing!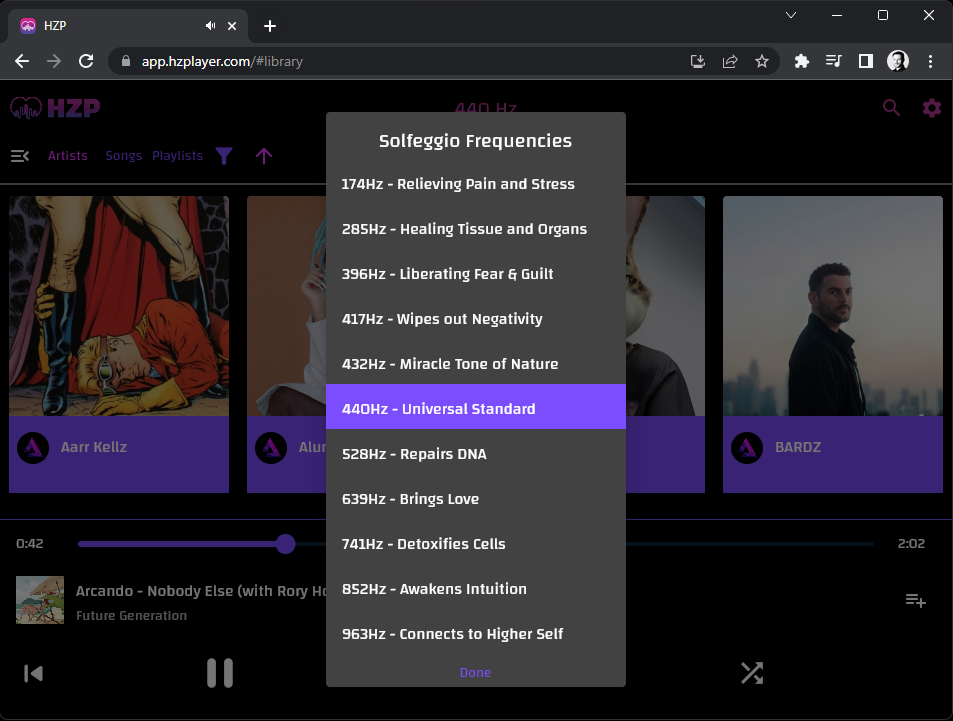 Solfeggio Frequencies
Listen to music in the output frequency of your choice. No conversion necessary.
FREE Live Streaming Catalog
Stream more than 1 Million Audius tracks 100% free.
Add Your MP3s
Connect the native players to your existing music library.
SYQEL Visuals Built In
Turn your music into a live, fully automated, immersive audio-visual experience.
Filter by Genre & Duration
Easily select the right track for your mood & length of activity.
Works Anywhere
HZP is available on Windows, Mac, iOS, Android & Web.
320kbps High Quality Audio
Music streamed is offered at studio quality, best in class high fidelity audio.
100% Ad Free
We hate being interrupted by ads. So we choose to exclude them entirely.
Countdown Timer
Set a timer to automatically switch off the music when the time is up.
Start a 7 Day FREE Trial, No CC required!
Solfeggio Frequencies
Available Output Frequencies
---
HZP automatically converts music that was recorded in the universal standard tuning of 440Hz A4 to any Solfeggio frequency and the Miracle Tone of Nature (aka Earth Tone) of 432Hz A4
Happy Customers
---
Join thousands of satisfied customers using HZP globally.
One of the best if not the best app with so many frequency variation option. You can choose on the fly the song you like and play it to Heal yourself and uplift the environment! Kudos A+++
Georgios Tantalos
Android User
Absolutely stunningly amazing app! Works like charm. A lot of thanks and love for the developers. The best music player ever! Works for your wellbeing
Kristiyan Manolov
Android User
I love this app! I wish that all the sound that comes out of my phone goes through this app. Keep on the good work and thanks!
Upgrade your music playback experience
Invest In Your Wellbeing.
Support The Creators.
Enjoy The BEST Music Experience.
The only features we charge for are the patent pending Solfeggio Frequencies output capability & SYQEL Visuals. Charging for these features allows us to keep developing the music player and pay our visual creators.
All other features in the player are offered to you 100% FREE. Forever.

Sound Healers - Learn how you can receive a discount!
hzp amplify
Billed Monthly
$8.99
Unlimited Music Streaming
Enjoy all Solfeggio Frequencies
Unlimited SYQEL Visuals
Remove Watermark From Visuals
hzp amplify
Billed Yearly - Save 25%
$79.99
Unlimited Music Streaming
Enjoy all Solfeggio Frequencies
Unlimited SYQEL Visuals
Remove Watermark From Visuals
FAQ
Frequently Asked Questions
---
Got a question? We've got answers. If you have some other questions, contact us using email.
Is this a secure site for purchases?
Absolutely! We work with top payment companies which guarantees your safety and security. All billing information is stored on our payment processing partner which has the most stringent level of certification available in the payments industry.
Can I cancel my subscription?
You can cancel your subscription anytime in your account. Once the subscription is cancelled, you will not be charged next month. You will continue to have access to your account until your current subscription expires.
How long are your contracts?
Currently, we offer monthly and annual subscription plans. You can upgrade or cancel your account at any time with no further obligation.
Can I update my card details?
Yes. Go to the billing section of your dashboard and update your payment information.
Can I request refund?
Unfortunately, not. We do not issue full or partial refunds for any reason.
Can I try your service for free?
Of course! We're happy to offer a free plan to anyone who wants to try our service.