HZP – Sound healing music app
Get More Out Of The Music You Listen To.
Infuse Any Song With Sound Healing Benefits!
---
The ultimate music app for Biohacking, Meditation, Manifestation, Human Performance, Yoga & Wellness Enthusiasts!
Download now

Voted #1 Product of the Week on ProductHunt – Health & Fitness Category!
PEOPLE USING HZP SAY IT HAS:
✅ Improved Their Sleep
✅ Boost Their Immunity
✅ Enhanced Their Creativity
✅ Reduced Their Stress & Anxiety
✅ Relieved Their Pain, Tension & Soreness
✅ Released Their Chakra Blockage
✅ Elevated Their Wellbeing
✅ Amplified Their Vibration
✅ Shifted Their Frequency

Join Them NOW!
Create Your FREE Account.
No CC Required!
---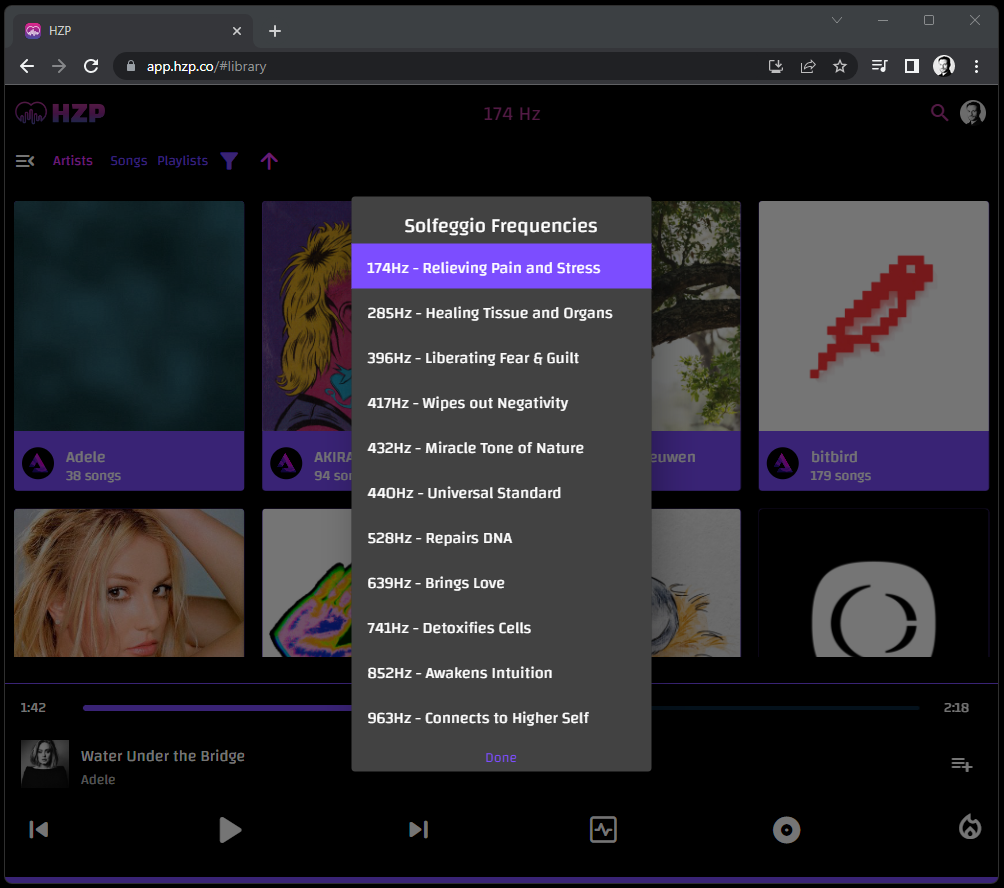 featires
97% Of People Wish They "Could Get More Out Of The Music They Listen To". 
HZP Does That. Auto-magically.
---
On your Smartphone, Tablet, Computer, SmartTV or in your Car,
HZP will play your tracks in any Solfeggio Frequency you choose!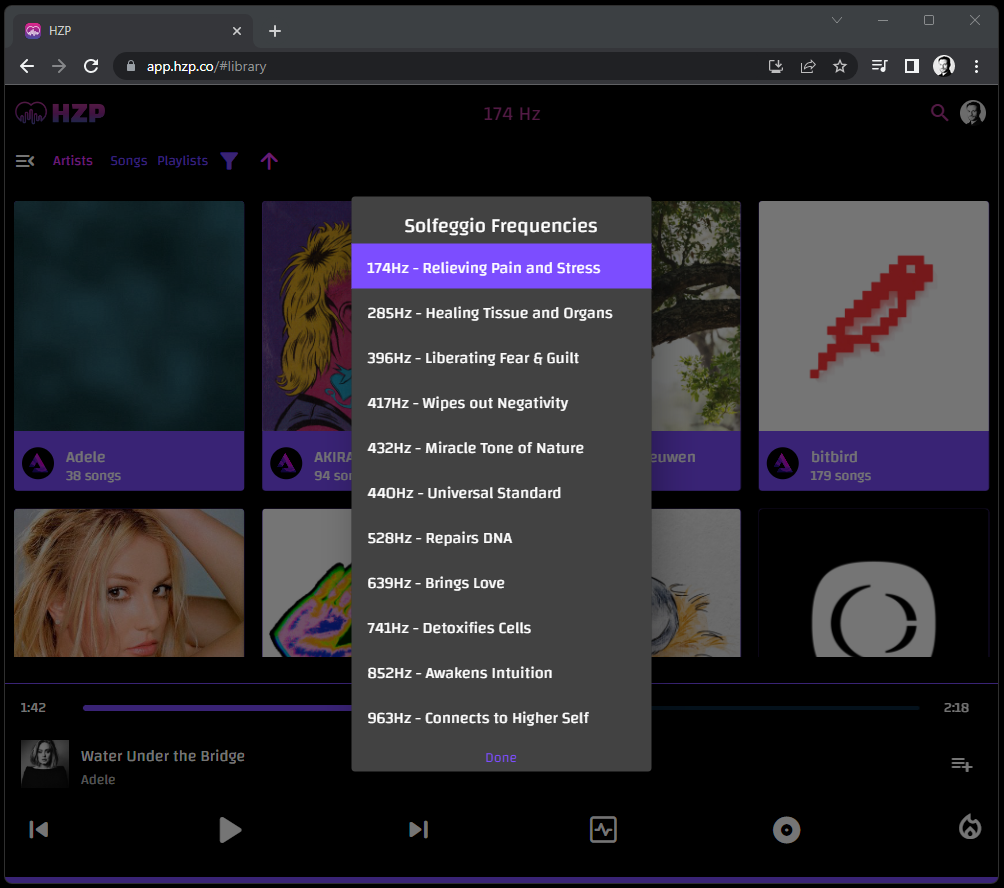 Sound Healing Frequencies
Listen to any music in any Solfeggio Frequency tuning you choose.
Stream 1 Million Songs
Access more than 1,000,000 tracks via Audius music catalog – 100% FREE.
Add Your MP3s
Connect your music files to the library on Smartphones and computers.
SYQEL Visuals Built In
Replace album covers, fireplace recordings and artist photos with stunning audio responsive visuals.
Filter/Sort by Genre & Duration
Easily select the right track for your mood & length of activity.
Works Anywhere
HZP is available on Windows, Mac, iPhones, iPads, Android & Web.
320kbps High Quality Audio
Music streamed is offered at studio quality, best in class high fidelity audio.
HZP Amplify = Ad FREE
Hate being interrupted by ads. Upgrade to our Premium plan to exclude them.
Sleep Timer
Set a timer to automatically switch off the music when the time is up.
Find Your Frequency – No Sign Up Required!
Solfeggio Frequencies
Available Output Frequencies
---
HZP automatically outputs music that was recorded in the concert standard tuning of 440Hz A4 in any Solfeggio Frequency tuning and 432 Hz – the Miracle Tone of Nature (also knows as Earth Tone)
FREE BONUS: Find Your Frequency & Save $150 Right Now!
Reviews
User Reviews
---
Join thousands of satisfied customers using HZP globally.
One of the best if not the best app with so many frequency variation option. You can choose on the fly the song you like and play it to Heal yourself and uplift the environment! Kudos A+++
Georgios Tantalos
Android User
Absolutely stunningly amazing app! Works like charm. A lot of thanks and love for the developers. The best music player ever! Works for your wellbeing
Kristiyan Manolov
Android User
I love this app! I wish that all the sound that comes out of my phone goes through this app. Keep on the good work and thanks!
Is this a secure site for purchases?
Absolutely! We accept PayPal, Apple Pay, Google Pay, Amazon Pay and all major credit cards through Stripe – the leading subscription payment processor.
Can I cancel my subscription?
You can cancel your subscription anytime in your account. Once the subscription is cancelled, you will not be charged next month. You will continue to have access to your account until your current subscription expires.
How long are your contracts?
Currently, we offer monthly and annual subscription plans. You can upgrade or cancel your account at any time with no further obligation.
Can I update my card details?
Yes. Go to the billing section of your dashboard and update your payment information.
Can I request refund?
Unfortunately, not. We do not issue full or partial refunds for any reason.
Can I try your service for free?
Of course! We're happy to offer a free, ad supported plan to anyone who wants to experience HZP.